NO.1 double-layer lady
After stacking the square towel into thin strips, wrap it from the front to the back, cross the back of the neck and then wrap it to the front. Finally, buckle twice and adjust the position.
NO.2 single layer simple type
This is similar to the first method, but in the final step, do not buckle at the front, but after the front cross again, hide the extra parts below.
NO.3 anti-circle denim
Fold the small square in half, then wrap it around your neck and fasten it behind your neck. Be careful not to be too tight, to leave a little space, otherwise it is easy to breathe.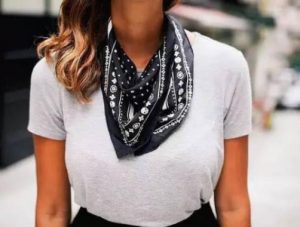 NO.4 single layer casual
This is also to first fold the square towel into strips, and then tie the knot from the back of the neck to the front. Note that the lengths on both sides are not the same length, they are slightly more sloppy and look more casual. Too formal will make people feel like flight attendants or bank staff.
These four methods are more common and versatile. If you think that the square towel is hot around your neck, you might want to wear it on your wrist. It is also beautiful and fashionable.