The origin of the head scarf
More than 1,000 years ago, the Arabs designed the first head scarf in the Middle East to use it to withstand the harsh desert climate. Today, the head scarf has become a symbol of male maturity and nationalism and has become a banner. The substitute for masks and shields becomes a political or fashion statement. We are a professional scarf manufacturer. We produce all kinds of high quality and low price scarves, such as turbans, cashmere, Keffiyeh, crochet scarves, retro scarves, shawls, all kinds of hats, etc. Welcome to contact We, customized according to samples.
 What is an Arab head scarf ?
Arab head scarves refer to head scarves worn by men in Arab countries. In fact, in some Islamic countries in Africa and Southeast Asia, men have the habit of wearing headscarves. According to the manufacturing method, the Arab head scarf can be easily divided into a jacquard head band (SHEMAGH) and a white head scarf (GUTRA), which are translated into Arabic. The Arabian Gulf countries are mainly red and white, black and beige, and other countries are mainly dark.
The head scarf of the Arab woman has a variety of styles and is basically worn in an Islamic manner. When women go out, they cover their heads and toes with head scarves and robes, except for their faces and hands. Some women go out and wear the top yarn, only revealing a pair of eyes, and do not want people to see their faces.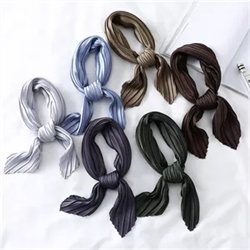 The use of the head scarf
The Arab head scarf can be both shaded and dressed. Of course, it is a tradition and a must for the Arab people. The strips and squares are the two most basic styles, as well as the triangles, usually about two meters, but the most in Sudan. Long, some even more than three meters. Color and texture vary from one to another.
The head scarf is not just a costume, it also has political and cultural significance. Arabs of middle age and above wear a head scarf for consideration of status and honor. In the summer, in order to resist the heat, they chose a white head scarf. When the weather gets cold, they use darker head scarves.
The acrylic scarf manufacturers offer a variety of scarves, such as jacquard scarf, chiffon scarf, square scarf, shawls…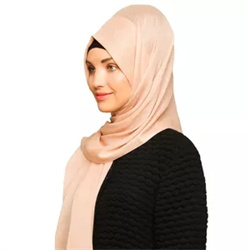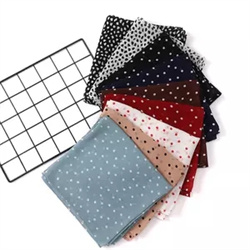 Adult sign
Bedouin boys usually get a head scarf from their father when they are fifteen. A seventy-seven-year-old Bedouin old man said: "I feel that the head scarf is the best gift in the world, it marks that I am a real man." He went on to say: "If someone dares to take it from me It takes away, I am desperate with him, he is my honor."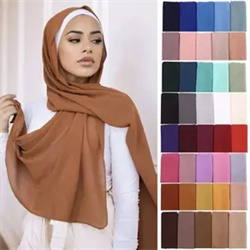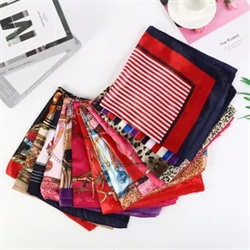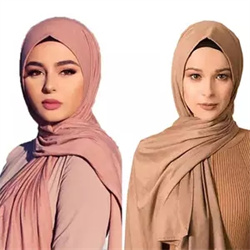 Wearing a head scarf
In the eyes of the Arabs, men wearing robes and head scarves are considered to be a devout and convincing expression of Islam. They are both gentle and embossed and reflect the Arab ethos and national sentiments. Therefore, the Gulf countries such as Qatar and Bahrain require civil servants to wear robes and scarves when they go to work.
In the eyes of ordinary people, wearing robes and wearing scarves is a mature and well-educated performance that can capture the goodwill of the opposite sex. Therefore, many fashionable young people in order to make a good impression on the girl in the blind date, specifically take off their suits, put on their robes, and put on a head scarf.
The head scarf has been with the Arabs for a long time. Its function has changed from the original windshield, sun protection, and cold to a kind of decoration, and even evolved a "head scarf culture" and "head scarf politics." An Arab said that the head scarf of the Arab man is not only part of the costume, it also has the meaning of honor, status, and even culture and politics.