The color of the scarf is chosen well, which can play a finishing touch.
Choose the same color as the coat, the color of the same color
Coats and scarves are the same color or similar color, the body color does not conflict, and the visual will be more comfortable. However, it should be noted that the whole body can not exceed three colors.
Choose a scarf that is similar to any color on your body
Color echo is the basic key to matching. The color of the scarf is the same as the color of the inside and the bottom, or the same color as your bag, shoes and accessories, and even the color of the lip color and eye shadow.
Use a scarf to brighten the body
In a black, adding a red, gray, camel scarf is both eye-catching and beautiful.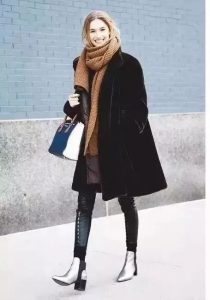 You can choose color from:Pantone color