1.For Neck
The most common way to match small squares is to tie them around your neck. This is the most common and easiest way to learn. No matter what type of clothing you wear with a small square, it is full of fashion.
The first is the simplest, with a white T. This is suitable for beginners, the most difficult to make mistakes. White T with a printed square scarf, the shape is more refined. If there are other small details on the white T, you can also use the same color square scarf as a response.
The second one can be worn with a shirt. The combination of small squares and shirts will have a French elegance.
The third type of dress is a lady with a playful look.
2.For Hair
In addition to the kerchief attached to the neck, it is also a good choice for hair bands. Want to create a sense of retro, hair band is an essential element, it is very convenient to use a small square to make a hair band, it can have a retro sense, but also a young girl. The method of use is also very simple, just fold the square towel into a long strip and then tie the knot on the head.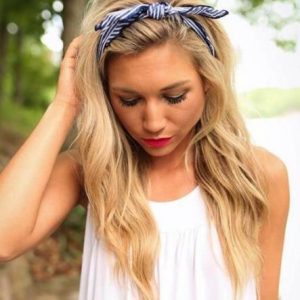 3.For Wrist
In addition to the above two methods, it is also a good choice on the wrist. At the time of selection, pay attention to the texture and pattern of the kerchief. Interesting patterns can add interest, while the silk material reflects the sense of luxury while being comfortable. And in addition to being worn on the wrist alone, it is also fashionable to wear accessories such as watches and bracelets.
4.For Ankle
Since the wrist is said, naturally, the ankle is indispensable. The square towel has almost no choice for the choice of shoes, which can be said to be versatile. Like the Muller shoes with the current fire, it is very good. The color of the square towel can neutralize the coolness of the Muller shoes and become a small bright spot on the whole match.
5.For Bags
In addition to the above-mentioned several tied to the body, it is also a good choice to tie the square towel to the bag. Of course, it is best to choose a solid color package, so that it is not obvious with the square scarf. The binding method on the tied bag is more casual, and it is good to tie your personal preferences.
Ok, basically the method of binding the square scarf is finished, so do you want a versatile square scarf?