Audrey Hepburn said: "When I put on a silk scarf, I never felt that I was a woman, a beautiful woman." So when she stood on the high steps of the Roman Cathedral, she would When the small silk handkerchief was in the neck, the sunshine was dancing for her, and the whole world became spring. When the silk scarf is not fixed, when the silk scarf becomes a fashion, when the silk scarf is no longer a silk scarf, we can be sure that this will be the highest state of the silk scarf. Beautiful because of change, because of beauty and eternity.
Originally ordinary silk scarves, after being hand-woven, woven, dyed and dyed, showed a variety of patterns on the silk surface, instead of a silk scarf for wearing, but a beautiful and unique artwork.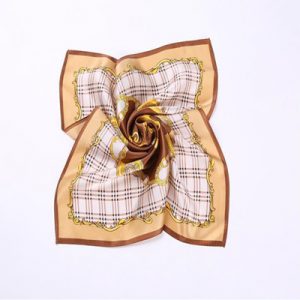 Through the ingenious concept of giving the silk scarf creative play, you can make the silk scarf show a unique and charming fashion, bringing changes to the clothing. In the entertainment occasion, put a silk scarf on the chest to show a dignified and beautiful; in formal occasions, put a large silk scarf on the shoulder to show the gorgeous and elegant; in casual occasions, the silk scarf is tied behind the neck, A little more elegant and dynamic. Moreover, the silk scarf is turned into a romantic and elegant top with a graceful and elegant long skirt, and even a headscarf, a hair accessory and a belt, and can be skillfully tied into a light tote bag and purse, or as a hat and purse. decoration. Its special and unique style is enough to make you a flowing landscape and attract countless eyes.
Silk scarves are also very popular, such as white jacket with dark blue velvet towel, gray jacket with red silk scarf, apricot yellow outerwear with rose purple silk scarf; when the jacket and silk scarf color are close, you can use shiny pins to coordinate. It is worth noting that in order to match the elegant effect, you should pay special attention to the collar of the clothing. For example, a sweater with a high-necked collar is preferred, and a coat with a V-neck and a lapel is preferred.
Pay attention to the maintenance of silk scarves:
Hand wash at 30 degrees or less, and wash it over. If it is soaked in water with a few drops of balsamic vinegar, it will be soft and smooth.
It is not advisable to wash with alkaline detergent and soap when washing. After washing, choose a ventilated place to dry and avoid the damage of silky hand and color;
The clothes after sweating should be washed immediately;
Do not hang the silk scarf on the hard metal hook to prevent the silk surface damage;
When not wearing, it is not advisable to put the brain pills, otherwise it will be easy to embrittle.