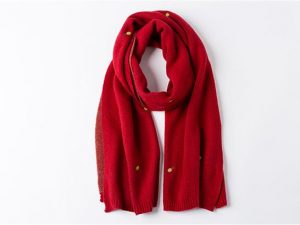 Product features: Embroidery of pineapple patterns, bright colors, add a cute feeling to the scarf. The high-quality woolen fabric is used, the yarn is fluffy and elastic, the flexibility is good, the hand feels delicate and soft, and there is no rough feeling and burr. The thickness is moderate and light, it will not give the neck too much burden, and it will be comfortable to wear. The thread is swayed, the shape is firm, round and tidy, and the literary atmosphere comes. Surrounded by delicate finishing techniques, it is naturally beautiful and skin-friendly.
Model Number: #C000017
Scarf size:210*48cm
Base fabric:100%Acrylic
Embroidery thread:100%Polyester
Process: Embroidery
Color:Red Rice White Caramel colour
Supply Ability:  2500 Set/Sets per Day
Lead Time :25-35days
Sample lead time:  One week
Washing instructions: not machine washable, not bleached, drip dry in the shade, regular dry cleaning. During daily washing, it is not advisable to soak for a long time, and attention should be paid to the separation. Use cold water to gently wash hands to avoid stretch deformation.