What if I accidentally get a silk scarf stained with ink or ink stains?
Wash the ink stains on the scarf: the new stains should be washed with cold water, then soaked in warm soapy liquid for a while, then rinsed with water; the stains can be washed first with detergent, then wiped with 10% alcohol solution. .
Ink stains: Mix thoroughly with rice grains and detergent, rub on the stains, and rinse with water.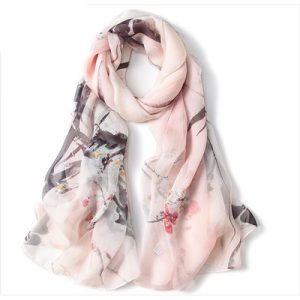 The white silk scarf is very beautiful regardless of the color of the clothes, but the white scarf is very dirty. What if the white silk scarf is stained with juice?
Freshly dyed juice, first remove some salt, gently moisten with water, then dip in soapy water to wash.
For mild fruit stains, wash them off with cold water, wash them at once, wash them again, and wash them. For heavy pollution, dilute ammonia (1 part ammonia water and 20 parts water) can be used for neutralization and soaking.
How to clean the silk scarf after being stained with oil?
Squeeze the toothpaste on the stain, gently rub it a few times, then rinse it with water, and the oil can be removed. If the alcohol or salt solution is applied to the oil, the oil can be removed. If the cooked oil stains the clothes, soak them in warm salt water and rinse them with soap.
Silk fabrics have poor wrinkle resistance. In order to prevent the appearance of wrinkles in silk scarves, care must be taken when washing. After rinsing in clean water, use a half basin of water at 30 °C, put a small spoon of vinegar, soak the clothes for 20 minutes, and pick up Do not screw, dry with water and ventilate, use hand to wrinkle and shape the wrinkles. When it is half dry, use a glass bottle filled with hot water or a low temperature iron to iron it on the clothes to remove wrinkles. If the silk scarf is dry and found wrinkles, it can be smoothed by ironing. When ironing, the clothes will be dried to 70% dry and then evenly sprayed with water. After 3-5 minutes, the ironing temperature should be controlled at 130 degrees. Between 140 degrees, the iron should not be directly pressed to touch the silk surface, so as to avoid the generation of aurora, you must put a layer of wet cloth on it and then heat it to prevent the silk from becoming brittle or even burnt.