To transfer and copy the pattern of the pattern through the screen to the fabric, it must be screen-engraved and then scraped onto the surface with a different color paste. After a series of finishing, the pattern can be copied. On the fabric, and fixing the color on the fabric, so that a scarf of different patterns, different colors and different styles can be produced, so you understand?
Screen engraving has a direct impact on the printing effect of fabric printing. In the design of the printing process, in order to make the pattern perform a good artistic effect on the fabric, in addition to seriously considering the determined printing process, it is necessary to seriously consider the screen engraving and production.
General printing enterprises have a special workshop for the engraving of the screen printing, or have a professional production company with an external screen version. However, they must clearly define the customer's requirements for the pattern, the specific comments of the trial order, and the printing process design. The specific requirements of the production, etc., otherwise the engraving of the screen version can not be started, so in the design of the printing process, it is necessary to put forward clear requirements for the screen engraving.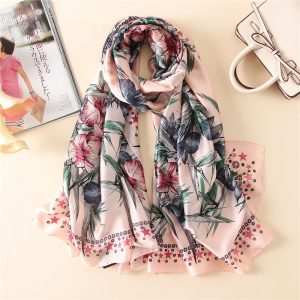 Provide flower type basis, color matching sample, returning size, and receiving mode to understand and clarify the overall style of the pattern. Under normal circumstances, the effect of the pattern is subject to proofing. If the sample is attached with a flat sample, the difference from the large sample is still subject to the proof. For the flat sample, the guest has been determined to specify the effect of the flat ok sample, and the flat ok sample is used for production.
It is necessary to fill out the "screen engraving process sheet" and propose the matters that should be paid attention to in the engraving of the spirit and effect of the complete order printing. Explain the various markings used in the sample, the process used in the production of the printing, the order of the screen layout in the actual production process of the printing, the processing method agreed by the customer, the printed production variety, the payment of the fabric, the organizational specifications, etc., so that Screen engraving can be carried out smoothly.